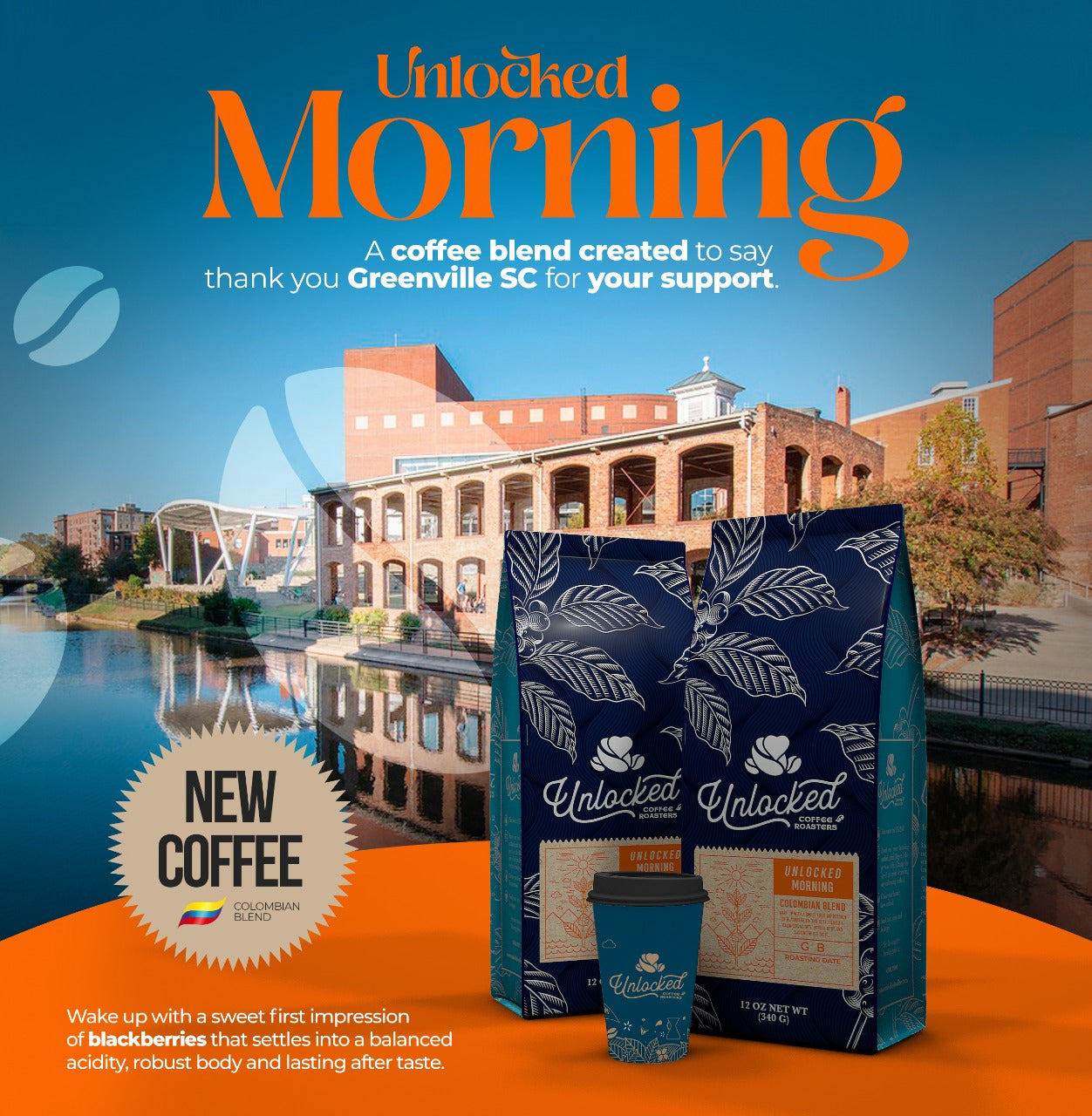 This year didn´t look how we all expected and is not something new. However, in the midst of the pandemic, we received so much support of the locals.  What could be a better new years resolution than to say THANK YOU GREENVILLE? We decided to create UNLOCKED MORNING, this new coffee is Colombian blend to show our gratitude for the support received from locals. Without you guys this year would have looked so much different to us, and to all the people that are involved in our business. 
People like Lucas and Sofia Cuadros, their company is called Unblended Coffee, these siblings are responsible for providing the green coffee we used to produce this blend. They believe that helping roasters will make them grow as well as the farmers that they buy the coffee from. 
With your support, you helped Unblended and Efren, the farmer in charge of this washed coffee, he is 45 years old and has been working as a farmer for 30 years. 
To know more about them check their website: https://www.unblended.coffee/
Watch the video https://www.youtube.com/watch?v=EeRSgUIigy0&feature=emb_logo
What does Unlocked Coffee think about this new coffee? 
This blend was definitely teamwork, beginning with the selection of Unblended Coffee and our roasting team we ensure that everything has high quality and a finished product what you will fall in love with. You will find a very balanced coffee, the first impression in your mouth will be blackberries, a robust body and long after taste. 
Unlocked Coffee is handcrafted in Greenville SC and we are so proud of it! 
Our heart beats for what 2021 is bringing to us and we know is something good because of all of you, we are still in this together.  
Thank you           (This empty space fill it up with your name).
Tag, mention, like, share, read, comment! HAPPY NEW YEAR GREENVILLE. 
This coffee is made for you! 
Unlocked Morning, a coffee blend created to say thank you Greenville SC for your support. 
#newyear2021
#unlockedcoffee
#coffeeshops
#newyearresolution
#thankyougreenville